I pray you and your families stay Safe and Healthy during these uncertain times.  If you are looking for some free crochet patterns to help take your mind of the world for a while, I have a couple to choose from at my website here
This page contains affiliate links.  You can make a purchase using these links that I provide where I may receive compensation (at no added cost to you.)  Purchases you make will help keep my website, Etsy Shop, and my Ravelry Store going and provide quality designs just for you!
Please sign up for my Newsletter so you can receive news about upcoming sales, new free crochet patterns, giveaways and more!
Have you seen this Roundup?  The Summer Solstice Roundup consists of 25 Crochet Designers, including myself, and their designs.  The Summer of Solstice Roundup is sponsored by The Loophole Fox.  You can find out more about The Loophole Fox here.   To find all of the free crochet patterns in the Summer Solstice Roundup on my website click here.
While you are here at my website be sure to sign up to my Mailing List and Newsletter.  This is a GREAT way for you to be notified about these events, giveaway, free crochet patterns, and more!  
Are  you looking for something to crochet you can wear during these hot summer months?  Well I have a perfect tank top here on my website that would be perfect for you!  My Ombre Waves Tank Top crochet pattern is free on my website and can be found here!  If you would like the Ad Free PDF version it can be found in my Ravelry Store Jo's Crafty Hook Designs here or at my Etsy Shop JosCraftyHook here!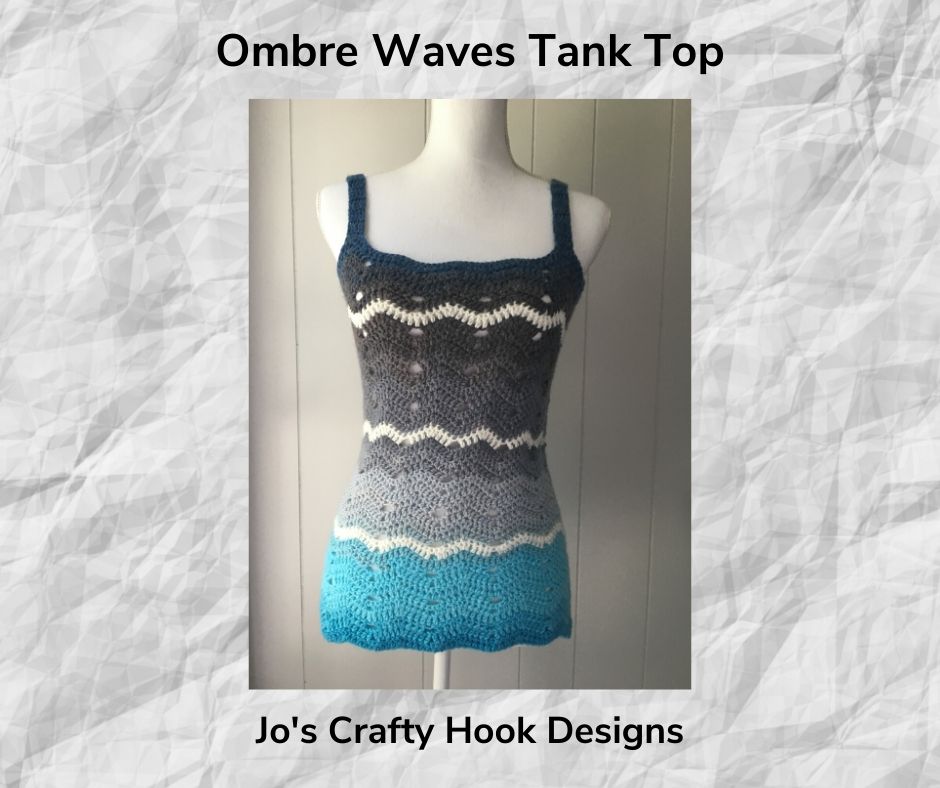 Do you love to Crochet?  Are you looking for inspiration?  Well, you will find some free crochet patterns here on my website.  Or if you prefer Ad-Free PDF crochet patterns that are not on my website then you can find them at the Ravelry store here. or at my Etsy Shop JosCraftyHook here.
Are you looking for something to be crocheted for you or someone you know?  Have you seen something on my website, my Ravelry Store, or my Etsy Shop?  Well you came to the right place!  As I tell my customers:  "Everything can be customized to fit YOUR style, size, and color!"  You can shoot me an email at jo@joscraftyhook.com and place a Custom Order!
Below are some of the Crochet Patterns you may see on my website in 2020!