Would you like a FREE PDF Crochet Pattern by Jo's Crafty Hook Designs?  All you need to do is Subscribe to my email list and I will send you the FREE crochet pattern designed by me, Jo Baird.
This post contains affiliate links.  You can make a purchase using these links that I provide where I may receive compensation (at no added cost to you.)  Purchases you make will help keep my website, Etsy Shop, and my Ravelry Store going and provide quality designs just for you!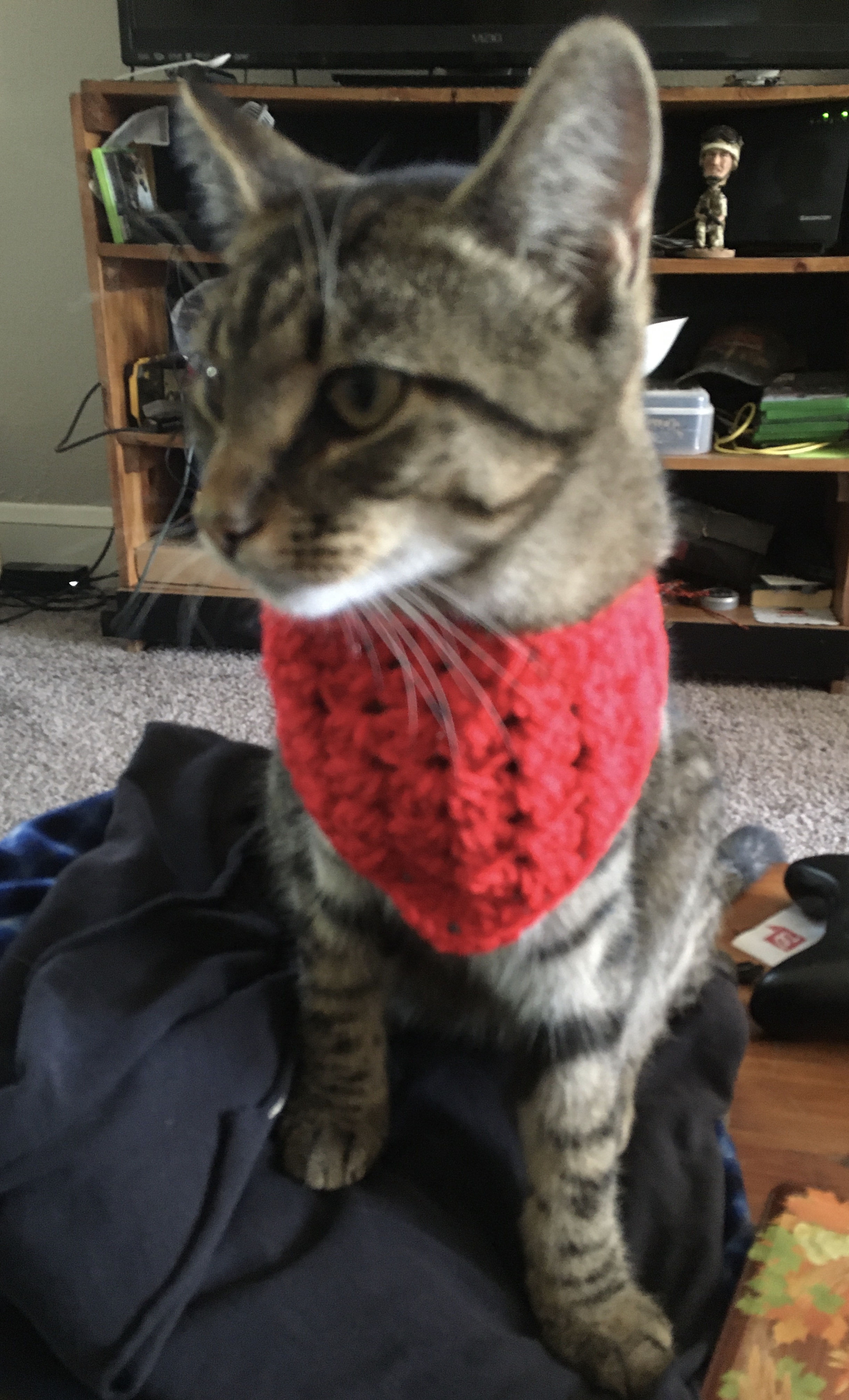 Stop by my Free Crochet Patterns here and crochet this adorable Pet Scarf.  The crochet pattern is fast and easy to do!   This is a great for those Craft Shows or Bazaars you may be going to this Holiday Season!  Happy Crocheting!
Looking to join a CAL?  Wondering what a CAL is?  Well join me and 11 other fiber artists at our Facebook Group Crochet-A-Long with Us here and find out.  You will find some amazing Crochet-A-Longs from our past and our future! 
THE NEXT CAL WILL START ON THE 10TH OF NOVEMBER.
Sunburst Mandala Cushion CAL intro
There will be 5 parts to the pattern, a new part released each week. You can crochet along with others, or at your own pace.
On the 9th of November you will be able to buy the pattern from Ravelry. There will be another part added each week, and you can also download that. You will get a message that an update has been added.
The first part will be released on the 10th of November (Australian time), this may still be 9th November for some of you
Part 2 will be released on the 17th of November (Australian time)
Part 3 will be released on the 24th of November (Australian time)

Part 4 will be released on the 1st of December (Australian time)

Part 5 will be released on the 8th of December (Australian time)
New crochet patterns in my Etsy Shop JosCraftyHook can be found here!
Custom Orders are ALWAYS Welcome. As I tell my customers… "Everything in my Shop can be customized to fit YOUR style, size and color!" Let Jo's Crafty Hook make YOU your own Handmade Crocheted Creations! Stop by my Etsy Shop and place your order today!
Are you like me and need to take Vitamins because you are "just that age?" lol
Online Leader for
Vitamins
& Supplements
What are you looking for?

FREE US Shipping
Free US Shipping on Lost April, 1250°C and Talori Brands!