Starting November 3rd, as part of Blue Star Crochet's Crochet Freebie Blog Hop, I'm giving away 2 PDF crochet patterns in 1 for my Child Size Pocket Shawls.
2 Child Size Pocket Shawls Bundle.
Hi there fellow crochet lover!
I would like to thank you for stopping by!  My name is Jo Baird and I am the creator and designer of Jo's Crafty Hook.  If you don't know me, let me tell you a little bit about myself.  I have been crocheting for over 20 years and designing crochet patterns for 4 years.  I have 2 beautiful children, a son and a daughter, I have been married for 35 years to my best friend and soul mate.  My husband supports me in my love of crochet because I am ALWAYS crocheting!  lol  My husband is also my color coordinator, prop builder, lighting director and more!  Where would we be without the support of our better halves?!? lol
The crochet patterns are for Intermediate or Advanced Beginners crocheters, with the step-by-step picture tutorials and the 4 video tutorials, anyone can try these patterns!
What do you get inside the Child Size Pocket Shawls PDF crochet pattern?
     *  Pocket Full of Diamonds Shawl with 7 sizes to choose from.  Sizes range from 2-4 to 14-16
     *  Diamond Arches Pocket Shawl with 7 sizes to choose from.  Sizes range from 2-4 to 14-16.
     *  Step-by-Step Picture Tutorials
     *  4 Video Tutorials teaching you the Argyle Shell Stitch, Wrapped Double Crochet, Alternate Chain 2, and the Foundation Double Crochet.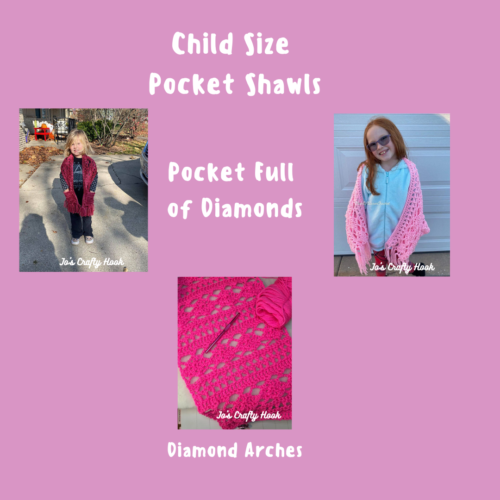 Doesn't this sound awesome??
What to expect from my Newsletter?  I will not fill your inbox with a lot of emails, you will only receive an email when:
 I release a new pattern, free or paid.
I have a new blog post.
 I have a Sale.
I am collaborating in a giveaway or blog hop.
I offer freebies.
How do I get the PDF for the 2 child size pocket shawl patterns in 1?  Here's how:
Sign up for my Newsletter at the link below.  Once you subscribe you will automatically receive the PDF for the 2 Child Size Pocket Shawls Bundle!  That's it!