Hi there fellow crochet lover!
I would like to thank you for stopping by Jo's Crafty Hook!  I hope you find something you are looking for and continue to come back!
I am offering you a Newsletter Incentive for signing up for Jo's Crafty Hook's Newsletter!!  As a new subscriber, I'm giving you a FREE premium crochet pattern of my Turning Leaves Scarf.  Inside the premium crochet pattern you will find step-by-step picture tutorials on how to create the turning leaves. 
With Spring coming you the Turning Leaves Scarf would be a perfect scarf to make.  With the season changing to Spring this design would be a great scarf to make as the weather still has a crisp chill in the air.  The leaves create a nice open stitch, so the scarf would not be too heavy or hot.  The Turning Leaves Scarf is a great make for those guys in your life too!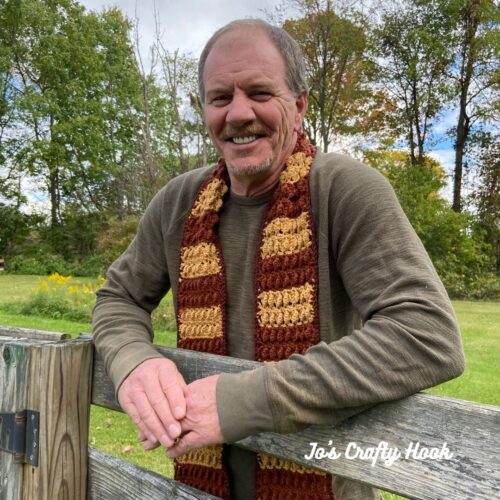 You can subscribe to my Newsletter by clicking on the SUBSCRIBE button in the upper right hand corner or your screen.
I would love to tell you a little bit about myself and Jo's Crafty Hook.
My name is Jo Baird and I am the creator of Jo's Crafty Hook.  I have been crocheting for over 25 years.  I started Jo's Crafty Hook 5 years ago, when I opening my Etsy Shop.  I started designing my own crochet patterns in 2018.  I love to try new things, this is why I offer a wide variety of crochet patterns of mine to choose from.  I love seeing what others create with my designs.  When my testers crochet their versions, their work is usually gone as soon as it is done, their family or friends love it so much that they take it "Hot off the Hook" lol
I especially love taking Custom Orders.  This lets me know that my designs are well received and I love crocheting them their own Handmade Crocheted Creations where they get to customize their design to fit their style, size and color!  I also love for others to see my designs on others!
I have been married for 30 years to my best friend and soul mate.  My husband supports me in my love of crochet.  He is just as much a part of Jo's Crafty Hook as I am.  He's is my color coordinator, photographer, design critique, prop builder, lighting director and anything and everything I need!  Where would we be without the support of our better halves, right?!?
I have 2 beautiful children, a son and a daughter.  When I started designing crochet patterns my kids were the inspiration, I would design things that my kids loved.  They still are still a part of Jo's Crafty Hook.  They are my design critics, my sales reps, my marketing directors; they let me know if other will or will NOT like the design.  My son is even starting to get in on the design process!  He has so many of his friends having kids, that he helps me design something he knows they will like.
How can you take advantage of this FREE crochet pattern and become a part of Jo's Crafty Hook's Community when you subscribe to my Newsletter?
I will not fill your inbox with a lot of emails, you will only receive an email when:
 I release a new pattern, free or paid.
I have a new blog post.
 I have a sale.
I am hosting an event or collaborating in a giveaway or blog hop.
Are you asking yourself "How do I get the pdf copy of my Turning Leaves Scarf crochet pattern  for FREE?"  Here's how:
Sign up for my Newsletter by clicking on the SUBSCRIBE button at the upper right hand corner of your screen.
Once you subscribe you will receive a Thank You email with the link to the crochet pattern at my Ravelry Store.  Once you click on the link inside your email, the pattern will automatically be added to your cart!  Just Check Out and your are done!
Be sure to tell your yarn loving friends to sign up for my Newsletter Incentive and they'll get the premium PDF copy of my Turning Leaves Scarf crochet pattern for FREE!!  They can sign up using the subscribe button in the upper right hand corner.
*********************************************************************************
You can find some great FREE Crochet Pattern on my website.  You will find Accessories, Apparel, Hats & Scarves, and Stash Busters.
Also, to help you find out what is on sale, I have created my own Sales Page for you to take advantage of some awesome deals!
If you would like to see a new type of design; see more tips; more helpful articles; or anything else, please feel free to email me:  j.o@joscraftyhook.com