I pray everyone had a blessed holiday season.  I would like to wish everyone a Happy New Year!  There have been a lot of changes last year and there will be more in the year to come.  Stay safe and healthy.  Below are events that are happening in January.  I pray you find something to help you through these trying times! 
Jo's Crafty Hook will be involved in SO many things in 2021 and I would hate for you to miss out on any of it!  So PLEASE be sure to sign up for my Newsletter so you don't miss out!  As a new subscriber to my Newsletter you will receive a special discount to my Ravelry Store!  Also as a new subscriber you will receive news about upcoming sales, new free crochet patterns, giveaways and more!
The Bring on Spring Blog Hop started February 1, 2021 and will run until March 1, 2021.  I will be collaborating with Through the Loop Yarn Craft and 28 crochet designers to bring you crochet patterns for Spring.   We will be bringing you crochet patterns that will help you shake off those winter blues.  The patterns can be done before Spring, to give you something to look forward to, for the warmer weather and those brighter days!  There will be a wide range of crochet patterns from garments, accessories, and even home decor.  Each day of this blog hops you will be able to get a free pdf copy of a crochet pattern.  Each day the blog hops starts at 6a PST or 3a EST and runs until 5:59a PST or 2:59a EST the next day.
The Mother's Day Gift Ideas Blog Hop started February 1, 2021 and runs until February 28, 2021.I will also be collaborating with Me N My Hook and 27 other crochet designers in the Mother's Day Gifts Blog Hop.  This blog hop will feature free crochet patterns for Mother's Day gift ideas.  In this blog hop you will have a wide range of items for you to choose from.  You will find pdf crochet patterns for accessories; a lot of home decor items; blankets; and more!  Each day the blog hops starts at 10a GMT or 5a EST and runs until 9:59a GMT or 4:59a EST the next day.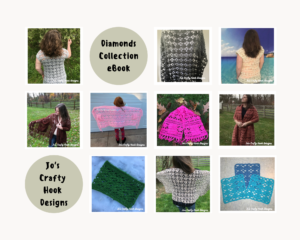 You can now find my Diamonds Collection eBook in my Ravelry Store and Etsy Shop!  The eBook is a $50 retail value.  As an introductory price of $30 you can get the eBook for 40% off the retail value!  The eBook contains crochet patterns for a Wrap, 2 Summer Tees, 2 Pocket Shawls in Adult & Child Sizes, an Afghan Square, and a Cowl!  One of the crochet patterns in my Diamonds Collection eBook is not sold in any of my stores, so stop by my Ravelry Store or my Etsy Shop and grab your copy of the Diamonds Collection eBook!
The Friendship CAL has started!!  From January 15, 2021 until April 18, 2020 Sunflower Cottage Crochet will be revealing one 9″ x 9″ Square twice a month.  There will be over 25 crochet designers taking part in the Friendship CAL!  You can find the released squares on my website here
If you prefer NOT to wait for the releases of the Friendship CAL Squares, you can get ALL 40 Square crochet patterns in the Friendship CAL Bundle!  For only $10 you can get all 40 squares from 25 different crochet designers in one place!  Purchase the Friendship CAL Bundle today!
Be sure to sign up for my Newsletter so you don't miss my weekly email with 3 square patterns released!
Do you love to Crochet?  Are you looking for inspiration?  Well, you will find some free crochet patterns here on my website.  Or if you prefer Ad-Free PDF crochet patterns you can visit my stores listed  below!.
Below are some of the Crochet Patterns you may see on my website in 2020-2021!  Custom Orders are welcome!
As I said earlier don't miss out on any of these events that you can take part of.   Sign up for my Newsletter!  I will be releasing an eBook, taking part in a blog hop, be featured in another interview, these are just the things going on in January!  As a new subscriber you will receive a Special Discount to my Ravelry Store!  So sign up so you don't miss out on any happenings here at Jo's Crafty Hook!
Find me, Jo of Jo's Crafty Hook Designs at any one of these places listed below!
Website:      www.joscraftyhook.com
Ravelry:       https://www.ravelry.com/designers/jos-crafty-hook
LoveCraft:  https://www.lovecrafts.com/en-gb/user/maker/1bee78ea-a464-4c9b-b781-59cfc74b1a6c
Etsy Shop:    www.etsy.com/shop/JosCraftyHook
Facebook:     www.facebook.com/JosCraftyHook
Facebook:     www.facebook.com/JosCraftyHookDesigns
Instagram:    www.instagram.com/joscraftyhook
Pinterest:     www.pinterest.com/baird0095
Twitter:         www.twitter.com/joscraftyhook
YouTube:  https://www.youtube.com/channel/UCk-6IB36bg4gkvaawn3xfdg