Scroll down and you will find all of my crochet patterns at Ravelry!
You can also find some of my patterns at the other locations below.
You can now find my Diamonds Collection eBook in my Ravelry Store and Etsy Shop!  The eBook is $30, which is 40% off the retail value of $50.  The eBook contains crochet patterns for a Wrap, 2 Summer Tees, 2 Pocket Shawls in Adult & Child Sizes, an Afghan Square, and a Cowl!  One of the crochet patterns in my Diamonds Collection eBook is not sold in any of my stores, so stop by my Ravelry Store or my Etsy Shop and grab your copy of the Diamonds Collection eBook!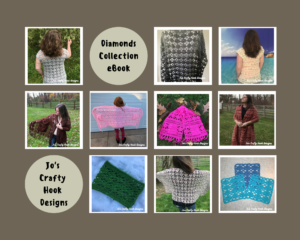 Do you love to Crochet?  Are you looking for inspiration?  Well, you will find some free crochet patterns here on my website.  Or if you prefer Ad-Free PDF crochet patterns you can visit my stores listed  below!.
Find me, Jo Baird, of Jo's Crafty Hook at any of the sites below.
Website:      www.joscraftyhook.com
Ravelry:       https://www.ravelry.com/designers/jos-crafty-hook
Etsy Shop:    www.etsy.com/shop/JosCraftyHook
Facebook:     www.facebook.com/JosCraftyHook
Facebook:     www.facebook.com/JosCraftyHookDesigns
Instagram:    www.instagram.com/joscraftyhook
Instagram:   www.instagram.com/jo_bear38
Pinterest:     www.pinterest.com/baird0095
Twitter:         www.twitter.com/joscraftyhook
Twitter:        www.twitter.com/jo_baird
YouTube:  https://www.youtube.com/channel/UCk-6IB36bg4gkvaawn3xfdg