Jo's Crafty Hook is taking part of The Preemie Crochet Challenge.  The Preemie Crochet Challenge runs the whole month of August.  This is a first annual event being sponsored by Sunflower Cottage Crochet to bring awareness to the challenges faced with premature babies.  The Preemie Crochet Challenge 2020 is a charitable event to help preemie babies, families, charities, and the NICU or neonatal intensive care unit at a local hospital.
This page contains affiliate links.  You can make a purchase using these links that I provide where I may receive compensation (at no added cost to you.)  Purchases you make will help keep my website, Etsy Shop, and my Ravelry Store going and provide quality designs just for you!
The event is like a blog hop.  There are 31 crochet designers that will have a free pattern for you to download.  Each pattern you download is a pledge you are taking.  You are pledging to make at least one item that you download and donate to a family, hospital or charity in November for Preemie Awareness Month.
I designed a blanket specifically for this event, the Sweet Dreams Preemie Blanket.  In designing the blanket I incorporated a new stitch that I had just learned, the Crunch Stitch.
I used 490 yards of Premier Sweet Roll in the Color Gelato Pop. I really love the feel and color of this yarn!  I used and US I Hook or 5.5 mm Hook.  The size of the Sweet Dreams Preemie Blanket is 23" x 23"  The blanket can be made bigger or smaller using the stitch count of 2. The Crunch Stitch always starts with a half double crochet and ends with a slip stitch.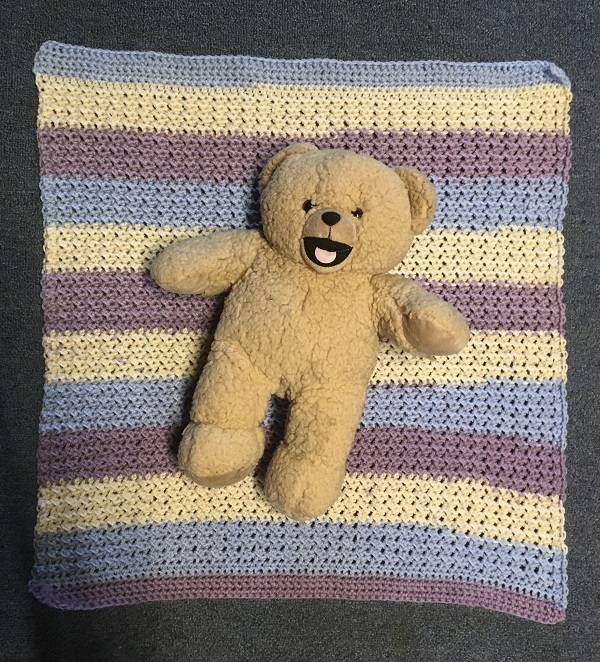 I wanted to help raise awareness of this event because I remember the struggles my aunt and uncle went through when their baby was born premature.  I remember that they didn't have all of the items a baby needs.  I remember my cousin was kept in the hospital in the NICU because he was having problems with his heart.  When my cousin came home he was still hooked to a heart monitor.  Even though I was a teenager at the time the family was not expecting these problems.  He is a healthy young man now.  The family came together and supported my aunt and uncle through these times.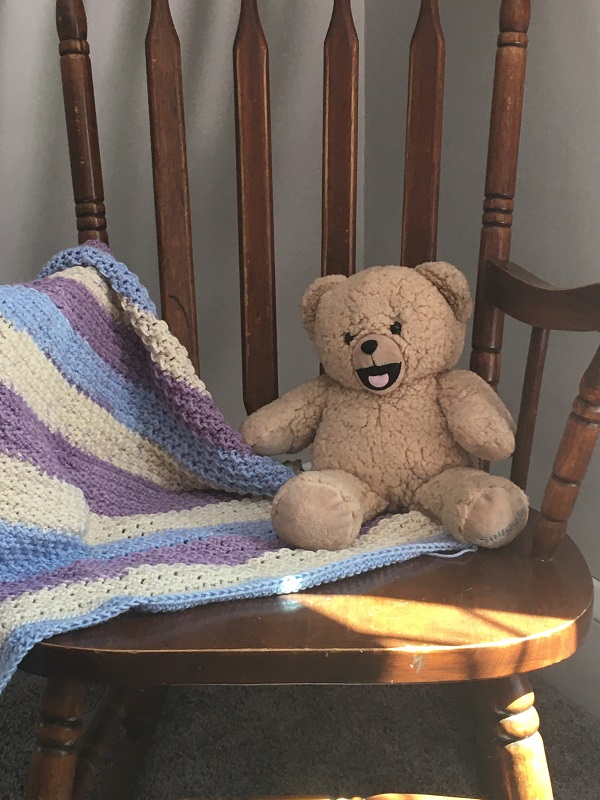 Because this cause is so worthy of our time and sacrifice I have decided to extend the free pdf copy of my crochet pattern.  From August 10th – August 17, 2020.  To take advantage of free pattern, click on the button below and that will take you to my pattern at Ravelry.  Use the Coupon Code:  PREEMIE2020 at check out. 
I would LOVE to see your version of the Sweet Dreams Preemie Blanket!  You can add your Project to my crochet pattern at Ravelry.  You can also find me on Instagram, Facebook, and Twitter.  You will find all of the places to connect with me below.  When sharing your version please use #sweetdreamspreemieblanket.  Thank you for stopping by Jo's Crafty Hook!  The button below will take you back to the Preemie Crochet Challenge.
You can find my other crochet patterns at these places:
Find me, Jo Baird, of Jo's Crafty Hook at any of the sites below.
Website:      www.joscraftyhook.com
Facebook:     www.facebook.com/JosCraftyHook
Facebook:     www.facebook.com/JosCraftyHookDesigns
Instagram:    www.instagram.com/joscraftyhook
Instagram:   www.instagram.com/jo_bear38
Pinterest:     www.pinterest.com/baird0095
Twitter:         www.twitter.com/joscraftyhook
Twitter:        www.twitter.com/jo_baird
YouTube:  https://www.youtube.com/channel/UCk-6IB36bg4gkvaawn3xfdg
From the Designer:
Thank you for your interest in this crochet pattern!  Check out some of my patterns at my Ravelry Store Jo's Crafty Hook Designs or Etsy Shop JosCraftyHook or at my website joscraftyhook.com!  While you are at my website be sure to subscribe to my Mailing List and Newsletter.  This way you will be notified when I release another pattern or blog post!
 If you have any questions or concerns about this pattern or any other pattern please find me at Jo's Crafty Hook Designs on Facebook or email me at jo@joscraftyhook.com
You are free to sell or gift the item, please do NOT claim this design as your own.   Please forward any one who would like to do this crochet pattern or any of my patterns to my Etsy shop, the Ravelry Store, or to my website.  The web addresses for any place to connect with me are listed below.
Every purchase of my patterns helps!  It allows me to buy more yarn so I can create and design more Handmade Crocheted Creations for you to enjoy.
I would LOVE to see your version of my designs!  You can "Hook It" at my Ravelry Jo's Crafty Hook Designs OR add a pic on my Facebook Page Jo's Crafty Hook Designs OR at anyone of the places below that allows you to connect with me!  Pictures, Comments, Feedback, etc. are ALWAYS welcome at my website www.joscraftyhook.com!