In today's post I will be sharing how to join afghan or blanket squares and adding a border to your afghan or blanket.
Below you will find some helpful Video Tutorials on how to join squares you used in making an Afghan or Blanket.  Also you will find a Video Tutorial I made using the Lollipop technique when I added my border.
The original post was from when I took part in the Patchwork Mystery CAL, but these techniques can be used in joining any squares or adding a border when making an afghan or blanket.
The technique I used in joining my squares was crocheting them together using the double crochet stitch.
I also have a helpful Video Tutorial on joining squares using the Running Stitch which you can watch below.
************************************************
This is it, the end of the Patchwork Mystery CAL, well it's ALMOST over!  In today's post I will be sharing the Joining Squares and Adding a Border for the Patchwork Mystery CAL Afghan that I did.   Don't worry because if you just joined us for the CAL or are behind, the schedule will stay up in the group and our patterns will remain FREE on our websites or blogs!  If you are just coming across our CAL, you can find our Facebook Group Patchwork Mystery CAL here!
Joining my Afghan Squares was a challenge, with SO many different techniques out there it was hard to choose from, but I find one perfect for mine!  I used a DC techniques to Join my afghan squares.  Below is a picture on my Join and a Video Tutorial to show you exactly what I did.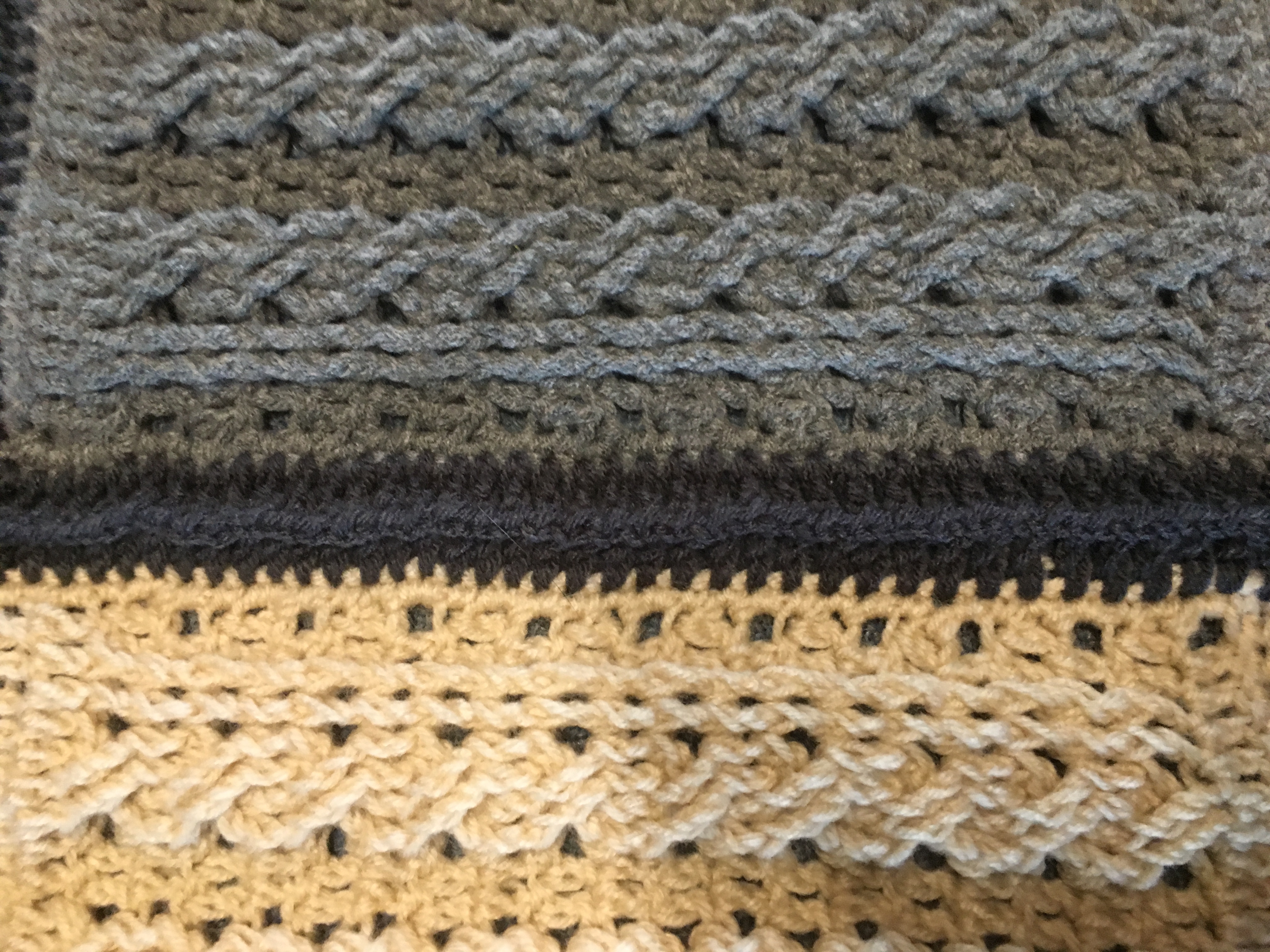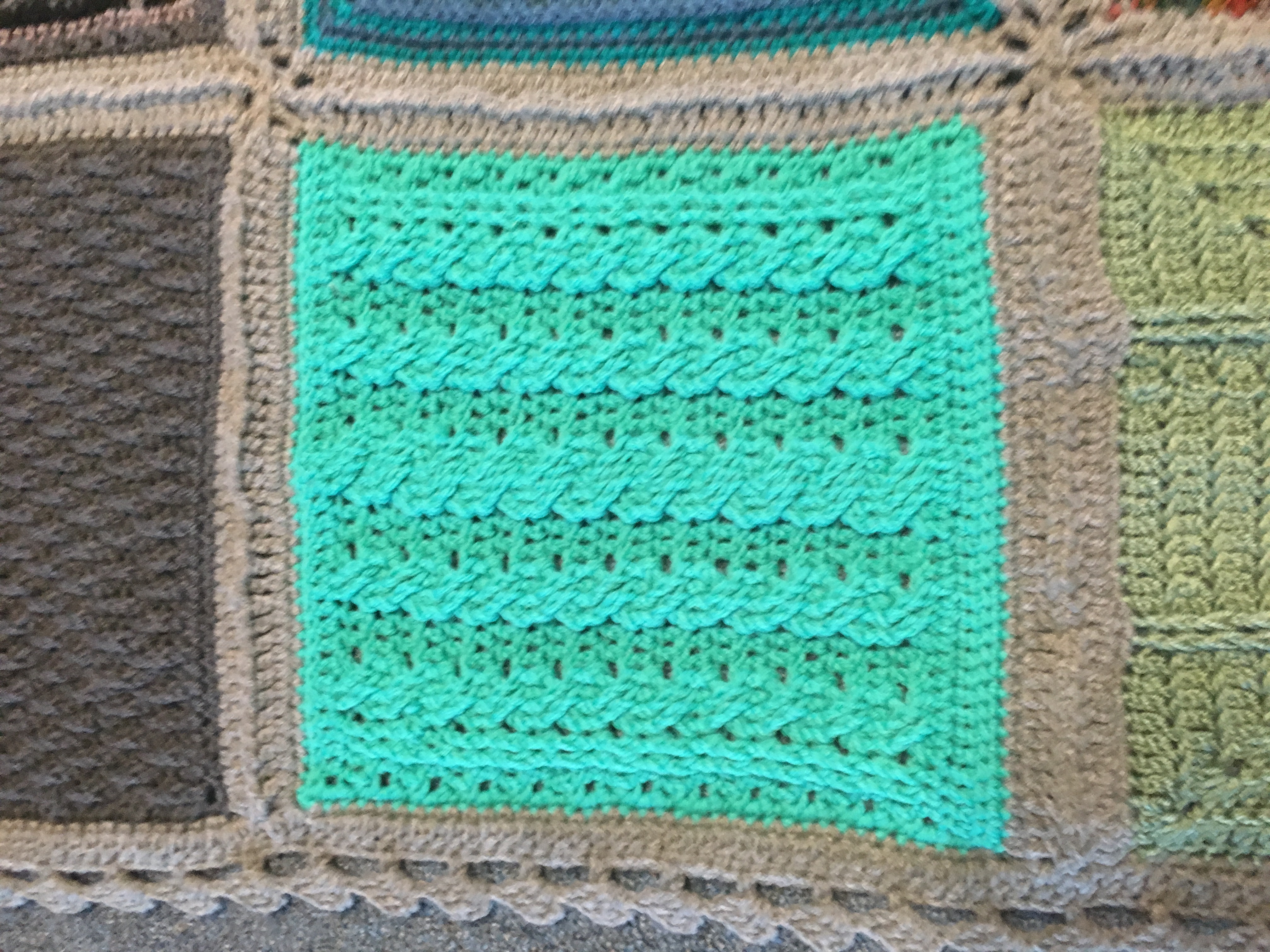 Once I joined all of my Afghan Squares, I added a DC Border around the whole Afghan.  After I did this I searched and searched Pinterest until I found the perfect decorative border I was looking for.  I call it the "Lollipop" technique.  lol  The actual pattern came from My Crafts which can be found here.
I also made a Video Tutorial of my "Lollipop" Border and you can find it below which is from my YouTube Channel.
And here is my finished Patchwork Mystery CAL Afghan!  I hope you like it and are able to find the perfect Join and Border for your Patchwork Mystery CAL Afghan!  Be sure to finish your Afghan and enter it in our Contest for a chance to win prizes!  You can find more about the Contest inside our Facebook Group Patchwork Mystery CAL here!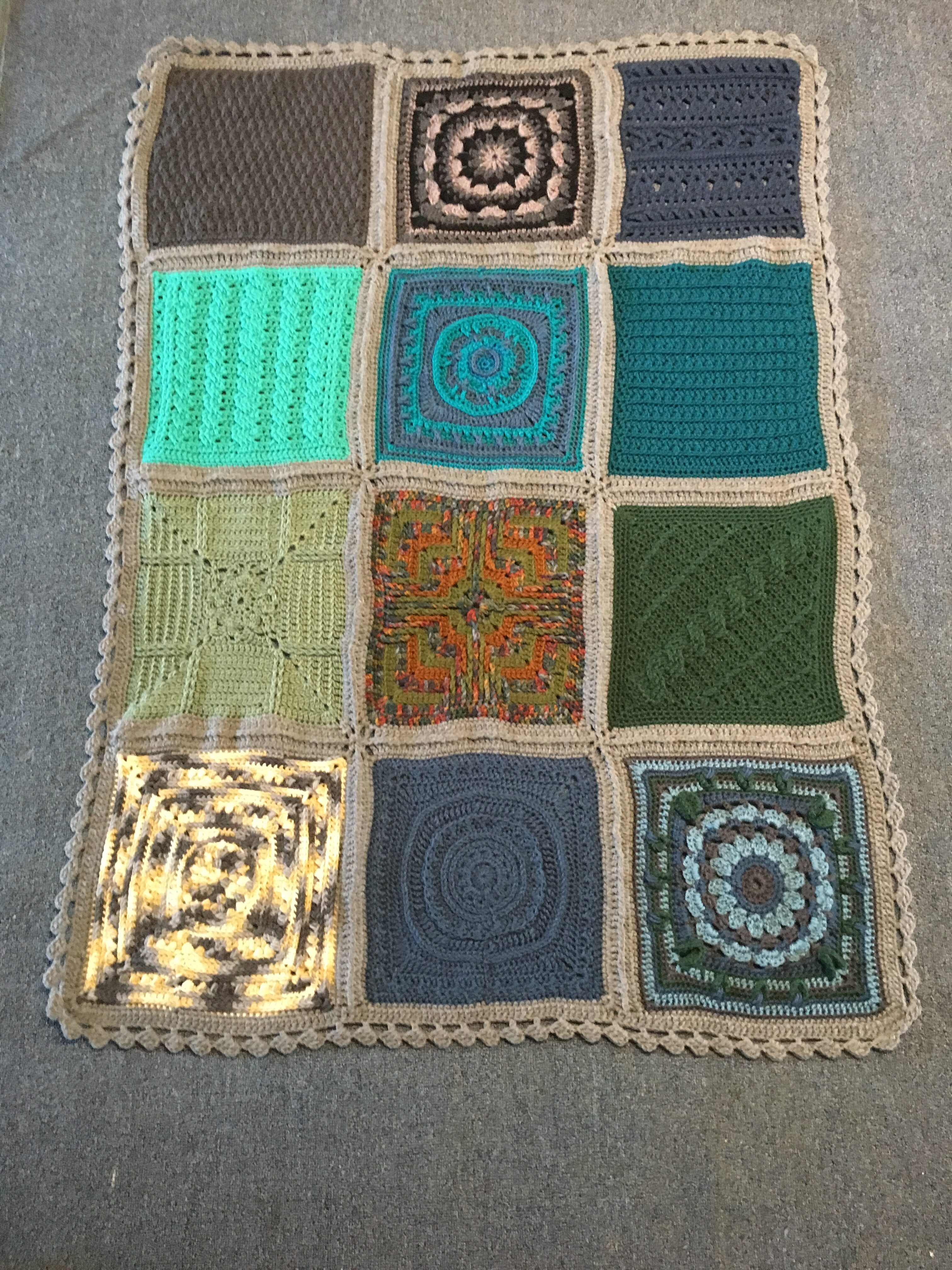 Thank you for joining us these past 12 weeks!  It has been an amazing journey for all of us.  Most are new Fiber Artists and being asked to participate in this awesome CAL has been a Fabulous Ride!  I can't wait to watch these designers as they create more Fiber Art for all of us to enjoy!  (Myself Included) lol  I am VERY thankful I got to be a part of your lives as well!  Thank you!
Here are links to a few of the other designers in the group that posted how they joined their blankets:
Find me, Jo of Jo's Crafty Hook Designs at any one of these places listed below!  Subscribe to my email; follow me on Etsy, Instagram and Twitter; favorite my patterns at Ravelry; and watch and subscribe to my video tutorials on YouTube!
Website:      www.joscraftyhook.com
Facebook Group:  www.facebook.com/JosCraftyHook-ers
Facebook Page:     www.facebook.com/JosCraftyHook
Facebook Page:     www.facebook.com/JosCraftyHookDesigns
Instagram:    www.instagram.com/joscraftyhook
Pinterest:     www.pinterest.com/baird0095
Twitter:         www.twitter.com/joscraftyhook
YouTube:  https://www.youtube.com/channel/UCk-6IB36bg4gkvaawn3xfdg
If you would like to make a donation to Jo's Crafty Hook and help me with the costs of running my website, crocheting new designs I would greatly appreciate it!
From the Designer:
Thank you for stopping by my website!  Check out some of my patterns at my Ravelry Store Jo's Crafty Hook Designs or LoveCraft or Etsy Shop JosCraftyHook or get free crochet patterns at my website joscraftyhook.com!  While you are at my website be sure to subscribe to my Newsletter.  This way you will be notified when I release another pattern or giveaway or blog post!
 If you have any questions or concerns about this pattern or any other pattern please find me at Joey Lea Baird on Facebook or email me at jo@joscraftyhook.com
You are free to sell or gift the item you make from my website, please do NOT claim any of my designs as your own.   If you share your finished product, please acknowledge me as the designer.  Please forward any one who would like to do this crochet pattern or any of my patterns to the Ravelry Store or to LoveCraft or to my Etsy shop, or to my website.  The web addresses for any place to connect with me are listed below.
Every purchase of my patterns helps!  It allows me to buy more yarn so I can create and design more Handmade Crocheted Creations for you to enjoy.
I would LOVE to see your version of my designs!  You can "Hook It" at my Ravelry Jo's Crafty Hook Designs OR add a pic using the hashtag of the design at anyone of the places below that allows you to connect with me!  Comments, Feedback, etc. are ALWAYS welcome at my website www.joscraftyhook.com!