Happy New Year! I hope this post finds you well and excited for a New Year in crocheting!  2020 is a new year with new goals.  One goal I am SO excited about is to be Hosting my very first blog hop, the Valentine's Day Blog Hop 2020!  I will be sharing with you Valentine's Day crochet patterns from myself and 5 Amazing fiber artists.
To get things started I want to share with you my own Valentine's Day crochet pattern which features my Summer of Love Tank Top.  You will find it free here on my website in 6 sizes.  The awesome thing I will be doing for Valentine's Day is giving away 50 Ad-Free PDF copies of my tank top crochet pattern!  The PDF has an extra crochet pattern inside for a Crop Top!
You read me right!  I will be giving away 50 copies of these 2 crochet patterns until 2/15/2020.  In order for you to get your copy, you need to be one of the first 50 people to head over to Ravelry and download the pattern.  To grab your copy of the Ad-Free PDF crochet patterns download it here from Ravelry and use the Coupon Code:  VDAY2020!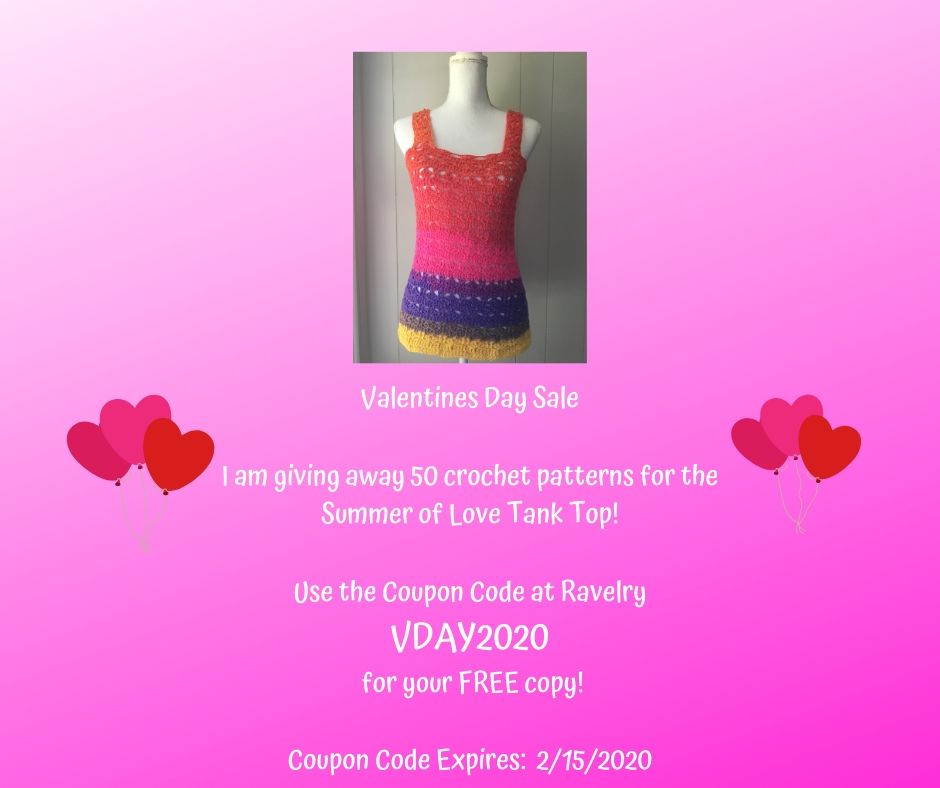 Another goal I am so excited about is my very first eBook, my Wrapped In Love eBook!   Because I am so excited, I want to share the excitement with you by offering a discount on my Wrapped In Love eBook from my Etsy Shop here!  The eBook contains 12 crochet patterns that I designed for Valentine's Day and Cancer Awareness.  You will find crochet patterns for Hats, Tank Tops and more!  Use the Coupon Code VDAY2020 and receive 50% off the Wrapped In Love eBook from my Etsy Shop Jos Crafty Hook!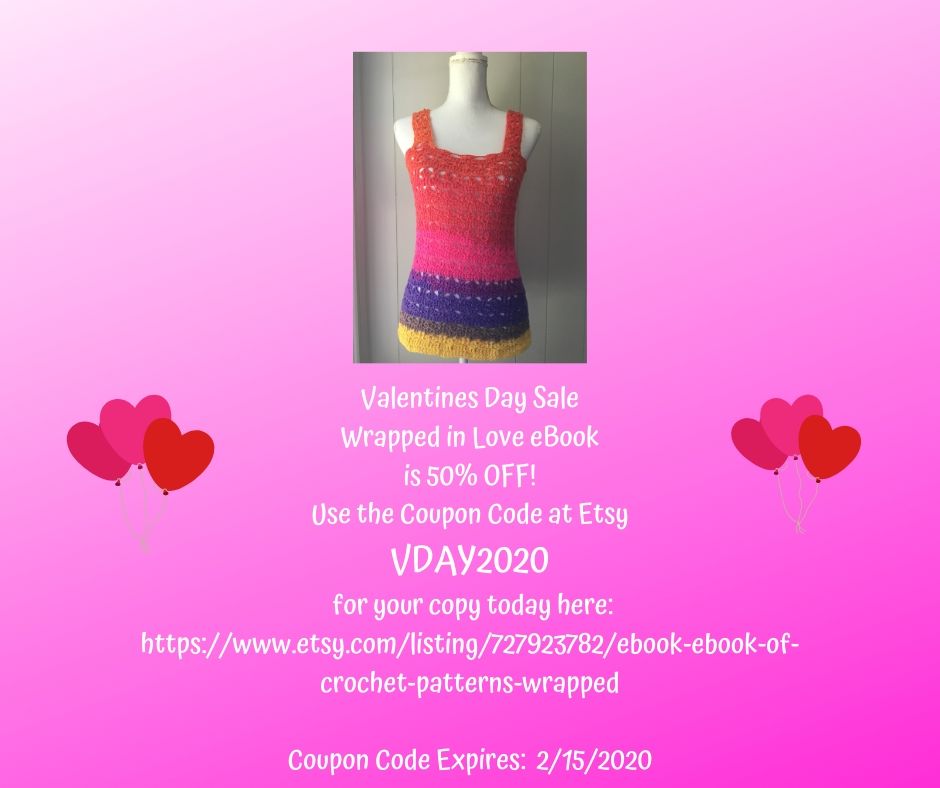 For my first featured fiber artist is Crystal Marin Long of ChristaCoDesign and her Sweetheart Hats.  I have got to say I LOVE her designs!  Crystal was one of the first designers that I started testing for back in April 2018.  So let's hear from Crystal:
Hi, I'm Crystal, the designer and blogger at ChristaCoDesign.com. I love creating easy and beautiful designs for the family. I have 4 little ones so when I'm not crocheting or knitting I'm usually enjoying them.

 The design I'm sharing today was created using tapestry crochet techniques to achieve the heart shapes-photos included to help you along. The Sweetheart Hat comes in 7 sizes-baby though child. Personally I love the gray/green version I made for my son.  I hope you enjoy the pattern and are able to share your Sweetheart Hats with those you love.
Now let us Hop on over to ChristaCoDesign and find her pattern and blog post below.
Below are places you can go and connect with Crystal.
—
Crystal Marin | Creator

Modern Crochet Everyday

Find me on:
Next you will find 2 fiber artists I want to feature are with one company, Sunflower Cottage Crochet and consists of Helen and Sara.  Let's hear what they have to say as they feature their Kate Wrap.
Here is what they have to say:
Sara is from the US and Helen is from the UK.   We met while testing for another designer and became firm friends. We love to create a range of designs with a modern twist on vintage country chic which is very glamorous and elegant – everything for you, your family and your home!

The Kate wrap is elegant and warm and such and easy but effective stitch combination! If you are new to front post double crochet we will have a YouTube video coming very soon. This stitch combo gives you the perfect way to learn something new and you will be surprised how quickly you pick it up!

We decided to offer a discount, 50 % off,  for this Valentine's Day Blog Hop of our pattern at Ravelry.  The Coupon Code is:  LOVE20 for the Kate Wrap here.
Ravelry:  https://www.ravelry.com/stores/sunflower-cottage-crochet-designs
You can hop on over and find their blog post for the Kate Wrap at: https://sunflowercottagecrochet.com/introducing-the-kate-collection-kate-wrap/
I just LOVE that all of my features guests are from all around the world.  Another featured fiber artist is Sarah from Rich Textures Crochet.  I met Sarah on Instagram, falling in love with her designs!  Let's see what Sarah has to say and bring out the link to her Sweetheart Cowl.
Hi!  My name is Sarah from Rich Textures Crochet! Thank you so much for stopping by, and a big thank you to Jo for allowing me to visit today! I was born and raised in Nova Scotia, Canada, but am now residing in Rural Southwestern Ontario.  I am a wife and a mom to four energetic children and an equally energetic border collie.

In crochet I love to play with texture.  I also love to learn new stitches and play with colour, although in my crochet I tend to gravitate to more earthy tones.  My favourite crochet hooks are wooden and I love to work with super bulky weight yarn.

On my blog you'll find a mix of patterns, from afghans to baby blankets, hats, mitts, scarves and cowls such as the one featured here for Valentines Day.  I'm so glad you stopped by and I look forward to connecting with you on Facebook, Instagram and YouTube! Happy Crocheting!
Below you can hop on over to Sarah's blog post about her design:
https://richtexturescrochet.com/2018/01/26/the-sweetheart-cowl-a-free-crochet-pattern/
Places to connect with Sarah:
For the last but not least featured artist for the Blog Hop is Catherine Venner of Crochet Cloudberry.  Below you will meet Cat and find the links to her Hygge Heart Cushion Cover and the discounts she is giving for here pillow cover.  So with out further ado, meet Cat:
My name is Cat and I absolutely love crochet. I picked up a hook for the first time a couple of years ago and have never looked back. With in weeks of learning to crochet, it became an obsession and I started spending every spare minute with a hook and some yarn. Sound familar?

Over time, I started developing my own patterns and ideas of what can be made using crochet techniques. In 2019 I made a new year's resolution to start my own crochet blog to share tha patterns that I have devised as well as the ideas behind them.

The hygge heart cushion has been inspired by scandi cosiness. As a student I spent the summers living and working in Denmark and so I became familar with the concept of hygge and wanted to bring it into my designs. The Danes frequently use the heart motives in their handicrafts and using self-striping yarn adds to the hygge effect.

For the Valentines promotion – I am submitting to you the Hygge Heart Cushion Cover. I have set up a 20% discount code in Etsy and Ravelry for it. It runs until Feb 16th and starts today. The code is "BEMINE2020".
You can also hop on over to Cat's blog post about this Valentine's Day Blog Hop:
https://crochetcloudberry.co.uk/crochet-journal/valentines-day-blog-hop/ 
Here are the links to Cat 's shops:
I want to thank all of the fiber artists who joined me for my very first blog hop, the Valentine's Day Blog Hop 2020!  I want to thank you, the readers as well!  Be sure to Hop on over to all the websites listed above so you can crochet their loved designs for your loved ones!
Happy Valentine's Day and Happy Crocheting!