This post contains affiliate links.  If you make a purchase using these links I may receive compensation (at no added cost to you.)
I entered a contest into the Phoenix Wrap C.A.L. and WON with my Phoenix Wrap C.A.L. entry!  I started writing this post before my entry was selected as a winner.  I was just going to talk about my Phoenix Wrap and show the pictures of my entry.  I saved my original writing as a draft, but today as I go back and read what I wrote, the whole theme of the post changed.  It changed in a good way, but bittersweet.  Talking about my memories of my mom and gran teaching me how to crochet are good memories,  but as I think about the domestic violence I have seen in my family makes my good memories bittersweet.  As you read further along you will see why.
In this post I want to share with you a contest I entered in August.  I entered Underground Crafter's Phoenix Wrap CAL (Crochet-A-Long) in association with Lion Brand and Sue Rock Originals Everyone Inc. or SROE.  The full contest was for fellow crocheters to make women's accessories to donate to Sue Rock Originals Everyone, Inc.  There were prizes awarded to the winners in this contest and I am one of them!  I won Lazada's Blocking Wires which can be found here.
Sally Beauty 
Find Beauty Supplies At Sally Beauty. Shop Your Favorite Products Now!
Here are a couple of things Marie of Underground Crafter had to say about the Phoenix Wrap CAL:
"I'm so excited to kick off the Phoenix Wrap Crochet-a-Long with Lion Brand and Sue Rock Originals Everyone, Inc. This is a free crochet shawl pattern available in three parts that is suitable for donation to survivors of domestic violence. It's your project, so you can also keep your version, gift it, or sell it."  "This is Marie from Underground Crafter and I'm here for the last post of the Phoenix Wrap Crochet-a-Long. I hope you've been enjoying this CAL as much as I have! In today's post, I'm sharing a sneak peek of the third and final part of the Phoenix Wrap along with a roundup of 18 more free crochet patterns for women's accessories that would be great for donating to Sue Rock Originals Everyone, Inc."
Print Free Grocery Coupons For Top Brands You Know and Love with CouponSurfer. Start Saving Today!
I believe the Lion Brand contest was a BIG deal!  There were 18 different designers where each designed free crochet patterns and each one used a different brand of yarn from Lion Brand.  My design, the Phoenix Wrap, called for the use of Lion Brand Jeans yarn.  This yarn is SO soft, smooth, and very durable.  The color I used is called Bermuda Shorts and can  be purchased here.
Here is the reason Sue Rock Originals Everyone, Inc. exist:  "helps domestic violence survivors by providing them with the needlework tools to change their lives.  There is something very empowering about creativity.  Creating an item – like a pillow or a doll dress or a washcloth may seem simple but the process is so important.  From choosing the yarn, to remembering who this is being made for, to looking at the item years later or even passing it on  – Textile memory is something that nurtures and strengthens culture and family."  You can find out more about Sue Rock Originals here.

I know I have good memories about growing up in a home where there were more than one person crocheting.  My mom and gran were a HUGE influence on me.  They both sat down with me and taught me how to crochet.  I still have items that were made by my mom and gran.  I even sat down with my daughter and taught her how to crochet.  I hope as she gets older and has children of her own that she will pass down this skill.
I also have memories of domestic violence.  There are a few people in my family who are survivors of it and got away from the violence.  I am glad they escaped, I just wish they had an organization like SROE to help them cope afterwards.   I am glad that Sue Rock is teaching survivors Crochet as a skilled trade and helping them create good memories and items they can pass down to their family.  My life was changed using this skill my mom and gran taught me. I cherish the things that were passed down to me from their skills.  I myself use crochet as a means to cope with chronic pain from my disease Scoliosis.  (You can read more about my disease here.)
I will be donating my Phoenix Wrap to Sue Rock's organization.  I think their organization has the right goals in teaching a skill to kids, teens, and adults who have survived domestic violence.   I hope and pray by donating my Phoenix Wrap I can touch someone else's life by the skills I have learned because of my mom and gran being a huge influence in my life.  You can find my winning entry on Underground Crafter's website here.
As I said at the beginning of this post, bittersweet.  By using the skills I was taught by my mom and gran I was able to win a prize in a contest I entered.  Both were victims of domestic violence and survived.  The skills they learned were used to help them cope and it became an opportunity to pass their skill on to me which I then passed on to my daughter.  I am proud of my skill!  I am even prouder of my mom and gran!  Because of them I was able to win!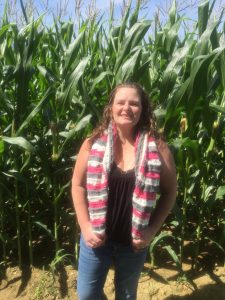 I know this post was a LONG one, but I hope and pray it touched your heart.  If you would like to leave a comment I would LOVE to hear from you!  Please comment below or come find me at any one of my Social Media outlets.  I would also LOVE it if you would sign up to my Mailing List!  By signing up you will receive my blog posts, Newsletters, and more right in your inbox!  Thank you for reading another post at Jo's Crafty Hook!
[wpforms id="1309″]