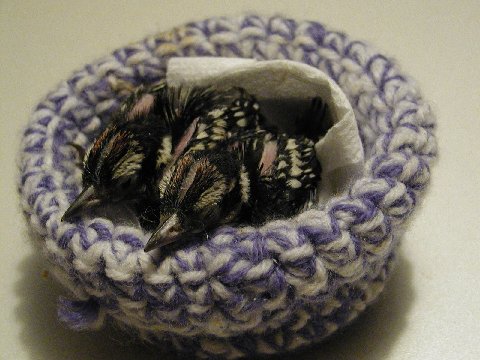 Save the Song Birds with Scrap Yarn
As my family will tell you, I LOVE Birds! I love Blue Jays, Cardinals, Woodpeckers, Cat Birds, and more! I could go on and on about the different types of Birds I love, but I won't. But I do want YOU crocheters or knitters out there to LOVE Song Birds so much that you make the baby birds a Nest with YOUR talent!
This post contains affiliate links.  You can make a purchase using these links that I provide where I may receive compensation (at no added cost to you.)  Purchases you make will help keep my website, Etsy Shop, and my Ravelry Store going and provide quality designs just for you!
My adopted daughter,Victoria Dunn, brought this idea to my attention, I LOVED this idea SO much that I want to get YOU involved! I found a pattern last night in my Gram's old crochet patterns that I thought would be perfect for all of us to crochet for the baby song birds. SO I am sharing it right here on my Blog AND inside my FB Group Jo's Crafty Hook Designs!  So be sure to crochet a basket (or 4), share it with us in my FB Group and I will share your pics on my website!
For those of you like me, Chronic Pain sufferer or Scoliosis Survivor, this Crochet/Knit pattern is right up your alley!  It takes very little yarn, very little time, and leaves you with a HUGE sense of accomplishment!!  Here is the original post and the related post as well.  You can even watch a video about the group that use these nests.  For those of you that would like to mail in your nest when finished, here is the address to sent it to:
Carolina Waterfowl Rescue
CWR
Po box 1484
Indian Trail NC 28079
You can use 2 strands of your Scrap Yarn!  1-1.5 ounces of each color is all you need!  I know I have made 8 so far and I haven't even put a dent in my scrap yarn.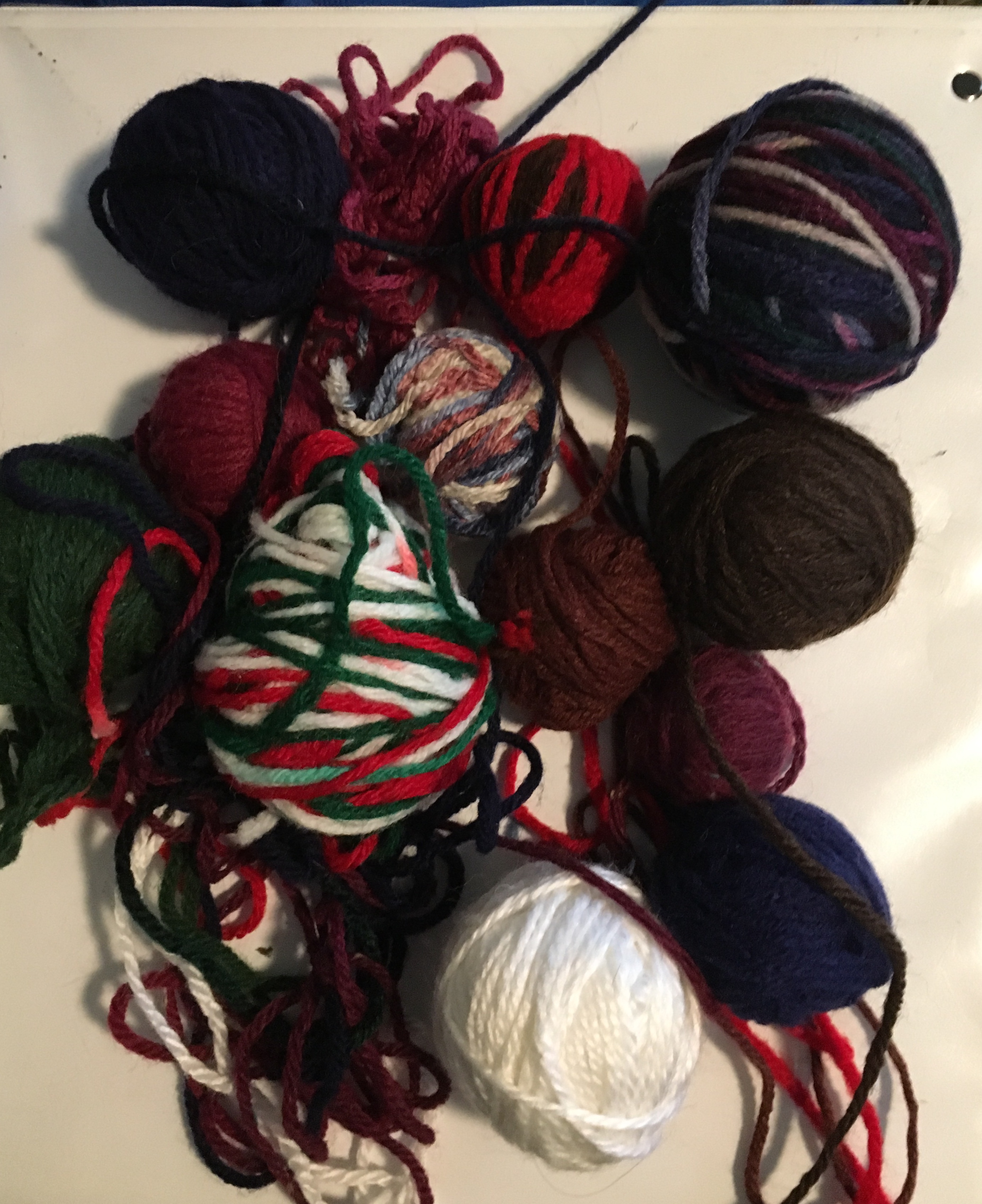 Join shareasale.com, Earn Cash!
Materials:
#4 Worsted Weight Yarn (1-3 oz)
#4 Worsted Weight 100% Cotton Yarn (1-3 oz)
US Hook J or 5.75 mm if needing tighter stitches
US Hook K or 6.50 mm
**You will use 2 strands at one time. We want the stitches to be nice and tight, so the cold air doesn't hurt the baby birds.**
Nest will measure 3″ wide x 3″ tall
Pattern:
ch 4
R1: 11 dc in the 4th ch from hook. Join with ss in to top of ch 3. (12 dc)
R2: Ch 3, 1 dc in the same space, 2 dc in the each stitch around.  ss to join (24 stitches)
R3: Ch 3, *2 dc in the next st, 1 dc in the next st.* Repeat * around (36 st)
R4: Ch 3, 1 dc in the back loop only of each st around. (36 st)
R6-R8: Ch 3, 1 dc in each dc around.. (36 st)
**The ladies of the organization provided a Crochet and Knit Pattern, but the above Crochet Pattern is my own design.**
Knitted Artificial Bird Nest
Directions:
On size 5 dpn's cast on 54 stitches using 2 or 3 strands of yarn so the nests are tightly knit and will stand up in a bowl shape on their own! (divide sts up into 18 sts/needle). Work in knit (stockingette is automatic on dpn's) stitch for approximately 3 inches. Begin decreasing for the crown as follows:
Next row: *K 7, k 2 tog* repeat to end
Next row: *K 6, k 2 tog* repeat to end
Next row: *K 5, k 2 tog* repeat to end
Nest row: *K 4, k 2 tog* repeat to end
Next row: *K 3, k 2 tog* repeat to end
Next row: *K 2, k 2 tog* repeat to end
Next row: *K 1, k 2 tog* repeat to end
Clip off yarn leaving a tail of about 6 inches.
Using yarn needle, slide yarn needle under all stitches on needles, and draw tight to close up the end. Knot
Make sure the nest can stand up in a bowl shape on its own!
 Up to 50% off Casa, Color Clearout, Dahlia, Embellish, Sew Sweet & Glitterbug Fabrics 40% off ENTIRE STOCK
Netting. Valid 3/29 – 4/10
From the Designer:
While you are at my website be sure to subscribe to my Mailing List and Newsletter. This way you will be notified when I release another crochet pattern or blog post and be alerted to Sales, Coupons, and more!  Also be sure to subscribe to my new YouTube Channel to receive alerts when I upload a new Video Tutorial here!
If you have any questions or concerns about the Ribbon Ear Warmer Crochet Pattern or any other pattern please email me at jo@joscraftyhook.com.  You will find my other crochet patterns here at my website.  I just posted a couple of my new crochet pattern designs, you will find them under Free Crochet Patterns.
You are free to sell or gift the Ribbon Ear Warmers.   If you sell them please reference me as the designer and where you found the Ribbon Ear Warmers Crochet Pattern.  If they would like to crochet the pattern themselves, please refer them back to my here website.
If you would like to purchase ad free pdf versions of any of my patterns, visit my Etsy Shop Items here at my website or at the Ravelry Store here.  Every purchase of my patterns helps!  The money earned allows me to buy more yarn so I can create and design more Handmade Crocheted Creations and crochet patterns for you to enjoy.
I would LOVE to see your version of my Ear Warmers!  You can "Hook It" at the Ravelry Store under Jo's Crafty Hook Designs here.  You can also share them at my Facebook Page Jo's Crafty Hook Designs here!  You can also post your version at any of my Social Media sites listed below!  If you share your version please use the hashtag #ribbonearwarmers or #twistedearwarmers or #jostwisted.  Thank you!
Comments, Questions, and Feedback are always welcome here at my website, at my FB Pages & Group, and any of my Social Media Sites.
Thank you for scrolling down here to see who our Facebook Group Crochet-A-Long with Us's next CAL will be and who will be doing it!  Natalia Johnson of nataliscrochet will be hosting her CAL 4/6 -4/13/2019.  You can check her out ahead of time by finding her here on Facebook and her crochet patterns here at the Ravelry Store.