Things sure have been busy here at Jo's Crafty Hook these last 2 months.  I got to spend time with my mom and sister from out of town; I spent time with my family at Thanksgiving; I've been getting things ready for Christmas; a couple of my crochet patterns were in testing; and best of all, I am getting ready for my very first EVER CAL (Crochet-A-Long)!
This post contains affiliate links.  If you make a purchase using these links I may receive compensation (at no added cost to you.)
That is right, I will be hosting my very first Crochet-A-Long!  For those of you who don't know what a CAL is, it is an event where a large group of people all work on certain parts of a crochet pattern at the same time. It is usually held inside a Facebook Group.  A CAL can last anywhere from 5 days to 4 weeks.  Each CAL is different and depends on the designer but there could be videos of step by step instructions, daily posts, giveaways, progress pics, and even grand prizes!
Because I joined the Facebook Group Crochet-A-Long with Us I will be having my very first EVER CAL and it will be held January 25, 2019!  My CAL will last 10 days.  I have decided which crochet pattern I am using, it is my Wrapped In Love Set!  The Wrapped In Love Set CAL will be happening right in time for  Valentine's Day.  Therefore, you can join me and crochet the set to have for the holiday!  You could even crochet the set and have it completed in time to give to a loved one!
The Wrapped in Love Set crochet pattern is for a Hat and a Cowl in 3 different sizes.  The sizes include a Child size, a Women's size, and a Men's size.  When I was designing this set I had my family in mind, they are VERY important to me.  They have been my support system for this whole year!  When things don't go the way I want, my son gives me advice.  When I can't get a design just right, my daughter will let me use her as my live model over and over again.  My husband has been SUPER helpful in building my sets, my displays, and offers me advice on the look of a pattern.  I have always put my family first, it is nice to have them supporting me as I put myself first!  They are the ones I want to Wrap in Love!  The set was originally designed in October 2018 for recognition of Cancer Awareness Month.  You can read more about that here.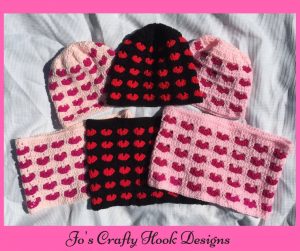 How did you get to host your own CAL you ask?  Because Tasha Reynolds, of Stardust Gold Crochet approached me and 19 other crochet designers from around the world and created a Facebook Group called Crochet-A-Long with Us!  YOU can learn more about it, join if interested, and find it here.  Tasha Reynolds has also put together ALL of the 20 designers and their designs in her very own blog post, which you can find here.  This Facebook Group has some of the best up and coming crochet designers from around the world, including ME!
For those of you who do know me you know this is a HUGE experience for me!  Yes, I have been crocheting for 20+ years, but I've only been designing my own crochet patterns since April of this year!  Being asked to join the Crochet-A-Long with Us Facebook Group and having my crochet designs linked with 19 other designers from around the world is something I never even dreamed about!  So I got to tell ya………I am blown away and EXCITED!!!
When I started my business in January 2018 all I wanted to do was sell the the Handmade Crocheted Creations I had made using free crochet patterns from other designers.  I never even thought about creating or designing my own crochet patterns.  Well how did you get started, you ask?  A friend seen one of the sweaters I had crocheted and loved it!  But she wanted me to adjust the fit for her.  So long story short, I adjusted the sweater, and both of us LOVED the way it came out!
After that I decided to try my hand at designing.  I wanted to make a sweater with different yarn.  2 tries later and a lot of trials and errors, the Little Black Vest, the Tulip Sweater Vest and Jo's Crafty Hook Designs were born!  The Little Black Vest is on Sale for $30 at my Etsy Shop.  The Tulip Sweater Vest crochet pattern can be found on my website for free or purchase the Ad Free PDF version here from the Ravelry Store.
So, after hearing all of this are YOU interested in learning more about our new Facebook Group??  Would you like to learn more about Crochet-A-Long with Us?? the 19 other crochet designers from around the world??  Are you interested in joining me on January 25, 2019 for my VERY first CAL??  Well you can do BOTH by stopping by and joining our Facebook Group Crochet-A-Long with Us here!
I'd like to thank you for stopping by my website.  Stop by the Facebook Group Crochet-A-Long with Us and I REALLY hope you stop by on January 25, 2019 and join me in my very first EVER CAL!
Also, be sure to stop by my Facebook Page Jo's Crafty Hook Designs.   I will be posting updates and more about my Wrapped In Love Set CAL as we get closer to the start date of January 25, 2019.  Join me right before Valentine's Day and crochet the Wrapped In Love Set for someone YOU love!

From Jo Baird:
While you are here at my website be sure to add your email address to my Mailing List and Newsletter. This way you will be notified when I release another pattern, blog post or give away Coupons!  If you would like to find out more about me, you can follow any of the links listed below.
If you or anyone would like to do one of my patterns, you can 3 free here at my website under FREE Crochet Patterns or purchase this pattern at my Etsy shop JosCraftyHook, the Ravelry Store, or to my Etsy Shop Items here on my website.
Every purchase of my patterns helps tremendously!  It allows me to keep my website and my Etsy Shop going.  It also allows me to buy more yarn so I can create and design more Handmade Crocheted Creations for you to enjoy.
Comments, Feedback, Suggestions, etc. are ALWAYS welcome at my website www.joscraftyhook.com!  Leave one or more below.  You can also email me at jo@joscraftyhook.com!
Find out more about me, Joey Lea Baird of Jo's Crafty Hook & Jo's Crafty Hook Designs at any one of these places listed below!
Website:      www.joscraftyhook.com
Etsy Shop:    www.etsy.com/shop/JosCraftyHook
Facebook:     www.facebook.com/JosCraftyHook
Facebook:     www.facebook.com/JosCraftyHookDesigns
Ravelry:       https://www.ravelry.com/designers/jos-crafty-hook
Instagram:    www.instagram.com/joscraftyhook
Pinterest:     www.pinterest.com/baird0095
Twitter:         www.twitter.com/joscraftyhook
Google+       www.googleplus.com/joscraftyhook