The Friendship CAL has started!  I am so glad you are here with us as we start to share the afghan squares needed to make the Friendship Afghan!  Me and 24 other crochet designers are collaborating in the Friendship CAL 2021 hosted by Helen and Sara from Sunflower Cottage Crochet.
This page contains affiliate links.  You can make a purchase using these links that I provide where I may receive compensation (at no added cost to you.)  Purchases you make will help keep my website, my Ravelry Store, my Etsy Shop, and LoveCrafts  going and provide quality designs just for you!
What is this, you ask?  The Friendship CAL will be a Crochet-A-Long where YOU can take part and crochet afghan squares to make a blanket.  On every Wednesday, Friday, and Sunday from now until April 2021, there will be a 9″ x 9″ crochet square pattern released, it could  be a free pdf or found free on the designers website.  There will be 40 square crochet patterns released from 25 different crochet designers.  My Diamonds Square will be featured in February!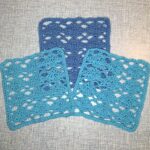 On each Wednesday, Friday and Sunday I will post the release of a NEW square crochet pattern. You can sign up to my Newsletter below and receive an email once a week letting you know there have been 3 new squares released, who designed them, and where you can find them.  I will also update my website every time there is a new Square released.
What are the Materials needed, you ask?  The materials needed are:
 
  3100 yards of 4 ply Worsted Weight Yarn or Aran Yarn for Squares
  600 yards of 4 ply Worsted Weight Yarn or Aran Yarn for Joining/Border
  US Crochet G-J Hooks or 4mm – 6mm
  Tapestry Needle for Joining Squares
  Scissors
  Stitch Markers (optional)
This Friendship CAL is a perfect way for you to crochet a Scrap Busting Blanket.  You can use up all of that left over yarn you have lying around from your other crochet projects!  What an AWE-some idea, right?!?!
Also there will be a number of crochet Facebook Groups you can show off your Work-in-Progress at.  You can share your Friendship CAL WIPs inside my newest Facebook Group Jo's Crafty Hook-ers here.
I hope to see you there!  Be sure to invite all of your crochet loving friends!
Again, you can receive an email notifying you weekly that there have been 3 new square crochet patterns released.  Also my website will be updated every time a new crochet square pattern is released.
If you would like to participate in the Friendship CAL, but do NOT want to wait around for the square releases, we do offer a Friendship CAL Bundle.  You can get all 40 square crochet patterns in one place for only $10!  To take advantage of the Bundle click here.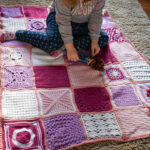 ********************************************************
Week 1
Square 3 – Wednesday, January 20, 2021 – Lauren Square
Square 3 was designed by Suzanne of Crafting Each Day.  This square has a wavy design that looks like ocean waves.  The color is gorgeous and makes you think of clear blue water.
The Lauren Square is available for free on Crafting Each Day's website.  You will find the pattern only uses basic stitches.  It uses single crochet, half double crochet, and double crochet.  Visit Crafting Each Day and get your free crochet pattern.
Square 2 – Sunday, January 17, 2021 -Pretty Petals Crochet Square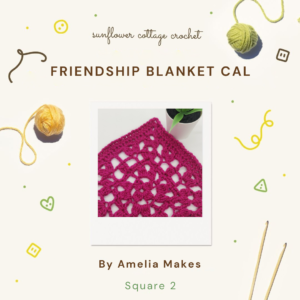 Square 2 was designed by Amelia of Amelia Makes.  This square uses a lacy design.  This square can be used in many different projects.  It looks like leaves or maybe scattered petals.
This square is available as a free pattern on Amelia's blog. If you would like the free pdf, Amelia has updated her free pattern for signing up to her emails so an immediate pdf version of this pattern will be delivered directly to your inbox. If you have any issues getting the pdf please contact Amelia directly and she will help you!
Square 1 – Friday, January 15, 2021 – Kinship Square
Square 1 starts off with our hosts, Helen and Sara of Sunflower Cottage Crochet.  Their square is aptly named the Kinship Square.  It uses the fpdc & bpdc stitches to create a nice tight, textured square.  Don't worry!  There are helpful Video Tutorials inside the crochet pattern to help you master these stitches!
You can find all the information needed about the Friendship CAL and how to get a free copy of the Friendship Square at Sunflower Cottage Crochet.  You can also join our hosts' Facebook Group Sunflower Cottage Crochet Community if you have questions about the CAL, share WIPs, and more.  They will have great tips, tricks, and useful information as the CAL progresses.
*******************************************************
Again, if you would like to purchase the Friendship CAL Bundle and get ALL 40 square crochet patterns at ONE time, click on the picture below or here.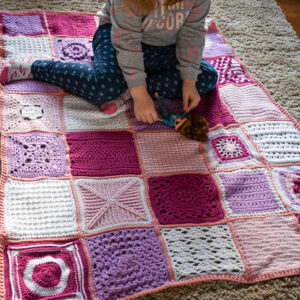 You can find more of my crochet patterns at these locations listed below.
Find me, Jo of Jo's Crafty Hook at any one of these places listed below!
Website:      www.joscraftyhook.com
Facebook Group:  www.facebook.com/JosCraftyHookers
Facebook Page:     www.facebook.com/JosCraftyHook
Facebook Page:     www.facebook.com/JosCraftyHookDesigns
Instagram:    www.instagram.com/joscraftyhook
Pinterest:     www.pinterest.com/baird0095
Twitter:         www.twitter.com/joscraftyhook
YouTube:  https://www.youtube.com/channel/UCk-6IB36bg4gkvaawn3xfdg
From the Designer:
Thank you for stopping by my website!  Check out some of my patterns at my Ravelry Store Jo's Crafty Hook Designs or LoveCraft or Etsy Shop JosCraftyHook or get free crochet patterns at my website joscraftyhook.com!  While you are at my website be sure to subscribe to my Newsletter.  This way you will be notified when I release another pattern or giveaway or blog post!
 If you have any questions or concerns about this pattern or any other pattern please find me at Joey Lea Baird on Facebook or email me at jo@joscraftyhook.com
You are free to sell or gift the item you make from my website, please do NOT claim any of my designs as your own.   If you share your finished product, please acknowledge me as the designer.  Please forward any one who would like to do this crochet pattern or any of my patterns to the Ravelry Store or to LoveCraft or to my Etsy shop, or to my website.  The web addresses for any place to connect with me are listed below.
Every purchase of my patterns helps!  It allows me to buy more yarn so I can create and design more Handmade Crocheted Creations for you to enjoy.
I would LOVE to see your version of my designs!  You can "Hook It" at my Ravelry Jo's Crafty Hook Designs OR add a pic using the hashtag of the design at anyone of the places below that allows you to connect with me!  Comments, Feedback, etc. are ALWAYS welcome at my website www.joscraftyhook.com!
If you would like to make a donation to Jo's Crafty Hook and help me with the costs of running my website, crocheting new designs I would greatly appreciate it!