The Little Nugget Beanie is a crochet pattern I designed especially for Preemie Babies.  The Beanies can be donated to your local hospital's NICU, to the families who have preemie babies,  or any charity that needs beanies because the Little Nugget Beanie crochet pattern can be customized for any size found in the Gauge below.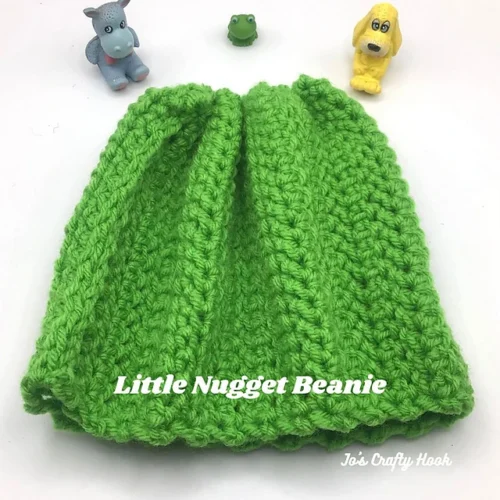 October is Cancer Awareness Month.  I wanted to share this beanie and bring awareness to Cancer because we recently lost our young niece who fought braving and never lost her love for life.  I have also have had family members who have had cancer in one form or another.  The Little Nugget Beanie is a pattern that can be customized for small babies to young toddlers.  This beanie can also be donated to Cancer Patients, Cancer Wards at your local hospital or donating to any local charity.
The Little Nugget Beanie free crochet pattern is listed below.  You can also be find a premium copy FREE download from my Ravelry Store that has all of the steps listed below.  You can share the link to your family and friends who would love to help spread the word about Cancer Awareness.
Materials Needed

US H Crochet Hook or 5 mm Crochet Hook
50-75 yds #4 Worsted Weight Yarn
Scissors
Tapestry Needle  

Stitches Used/Abbreviations
ch – chain
sc – single crochet
fsc – foundation single crochet
hhdc – herringbone half double crochet
sl st – slip stitch
st – stitch
WS – Wrong Side
Gauge
US H Crochet Hook or 5 mm Crochet Hook
12 st x 12 Rows = 4"

Finished Size:
6" x 8"
Pattern Notes 
Ch 1 does NOT count as a st.

This beanie is worked as a rectangle.  The chain length is the height of the hat, and the length of the rectangle will be the circumference.

To close the top of the hat, you will use a running stitch sewing and weaving the side and the crown closed.
Video Tutorials
Foundation Single Crochet here.
Invisible Stitch here.
Running Stitch here
Herringbone Half Double Crochet Right Handed here
Here is a great left handed video tutorial I made to help you with the Herringbone Half Double Crochet (hhdc)
Special Stitch
Herringbone Half Double Crochet:
1. Yarn over, insert hook into next stitch and pull up a loop (3 loops on hook)
2. Pull first loop straight through the second (similar to a slip stitch)
3. Yarn over, pull through two remaining loops on hook.
Little Nugget Beanie Free Crochet Pattern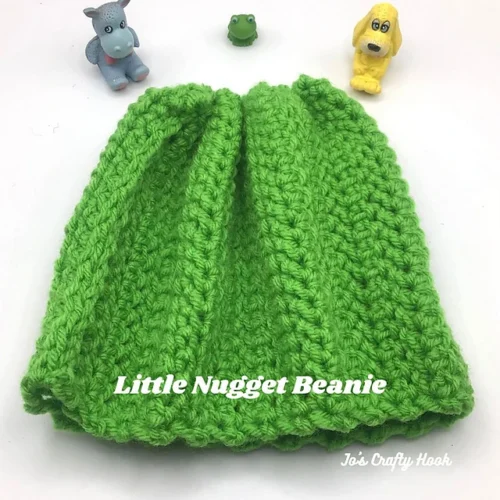 6" x 16"  Preemie
R1:  FSC 18 turn
Optional:  ch 19, sc in the 2nd hook and each remaining st.  Turn (18 sc)
R2:  Ch 1, sc in same st, hhdc in the next 16 st, and sc in the last st. Turn (2 sc & 16 hhdc)
R3-R48:  Repeat R2 or until the piece measures 16"
Leave a long tail of yarn about 22" – 24" to sew together the sides of the hat and the crown.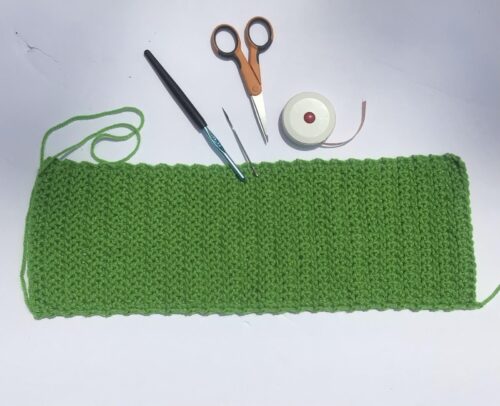 Step 1:
Line up the WS of the last row to the WS of the foundation row.
Step 2:
With your tapestry needle, use the running stitch to sew the short rows together,  Do not pull the yarn tight or fasten off.
Step 3:
Turn your work with the long side facing up.
Step 4:
With your tapestry needle, weave the yarn through each st to sew the long side together.  
Step 5:
Pull your yarn tight to close the crown.
Fasten off and use your tapestry needle weave in any loose ends.
********************************************************

That's it!  You have completed your Little Nugget Beanie!  I would LOVE to see your version!  Please tag me at any of my Social Media Sites listed below.

Jo's Crafty Hook on IG
Joey Lea Baird on FB
Jo's Crafty Hook Designs FB Group
You can find more of my premium crochet patterns at the links below.  You can also find FREE crochet patterns on my website.

Ravelry

LoveCrafts

Etsy Shop
Find me, Jo of Jo's Crafty Hook at the places listed below.
Email:  j.o@joscraftyhook.com
Facebook Group Jo's Crafty Hookers
Facebook Group Jo's Crafty Hook Designs
Facebook Page Jo's Crafty Hook
Facebook Page:  Crochet Designer Community